Anthony Simon
General Chairman
Vincent Tessitore
Vice General Chairman
Michael Denn
Secretary
Local Chairman
Dominick Amendolare
Joseph Castaldo
Michael Denn
Jeff Finn
Jay Langlan
Anthony Lavoratore
Paul Santoro
Chris Smith
Vincent Tessitore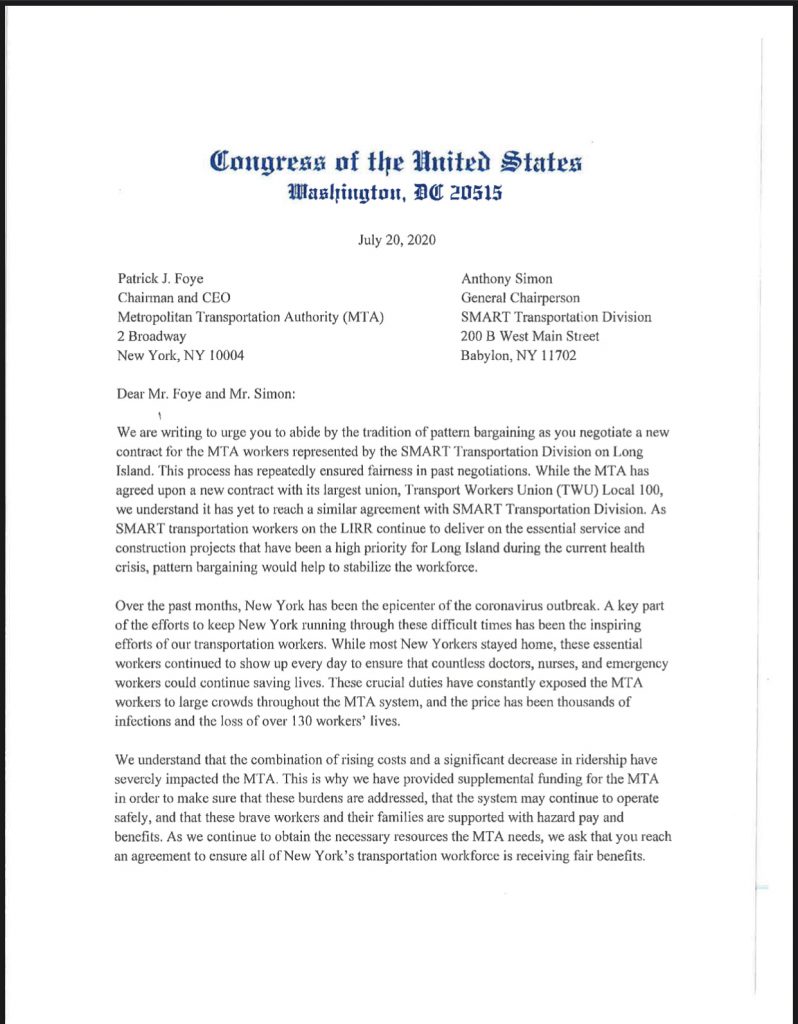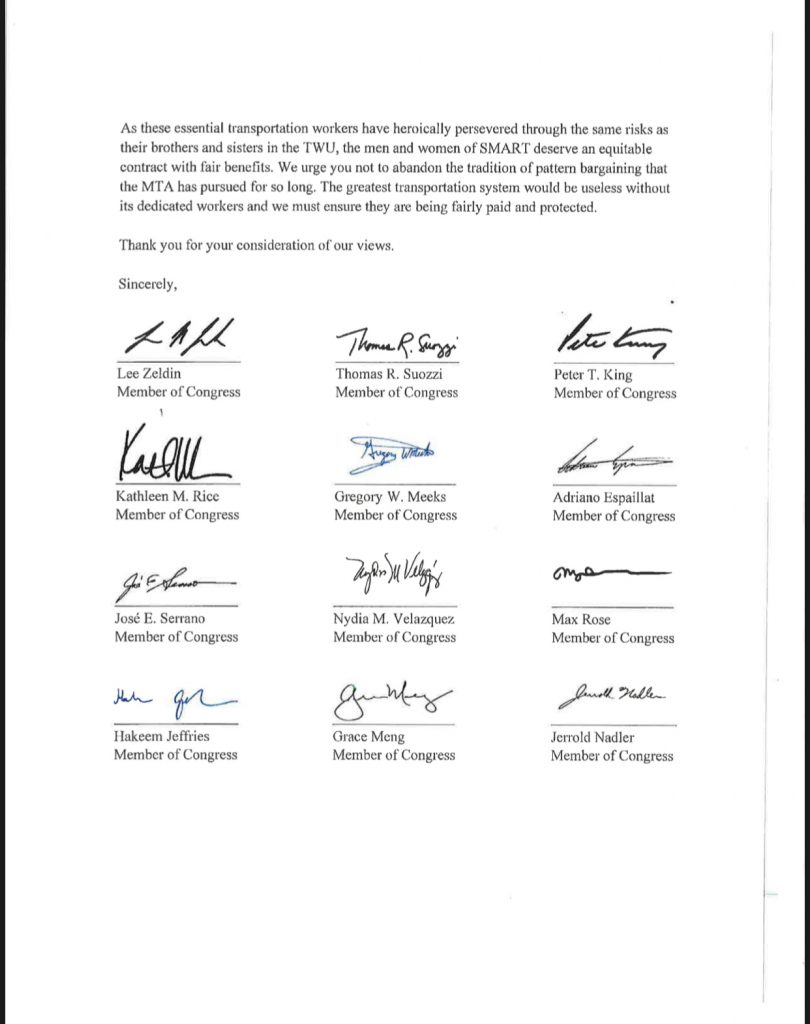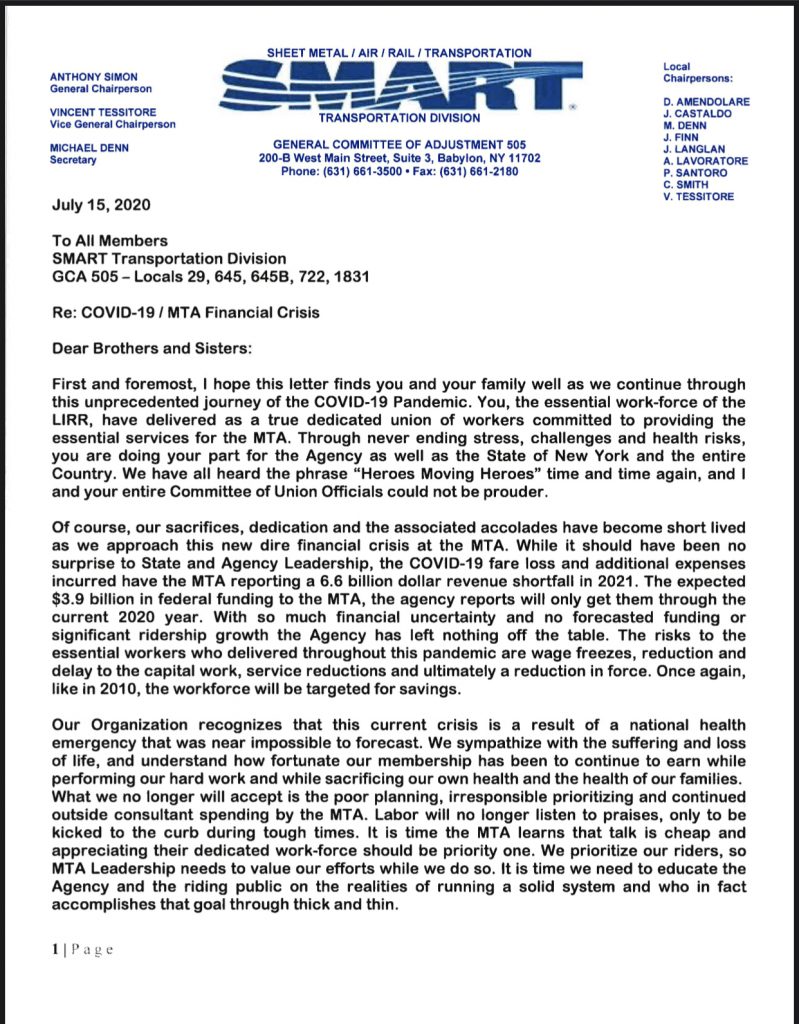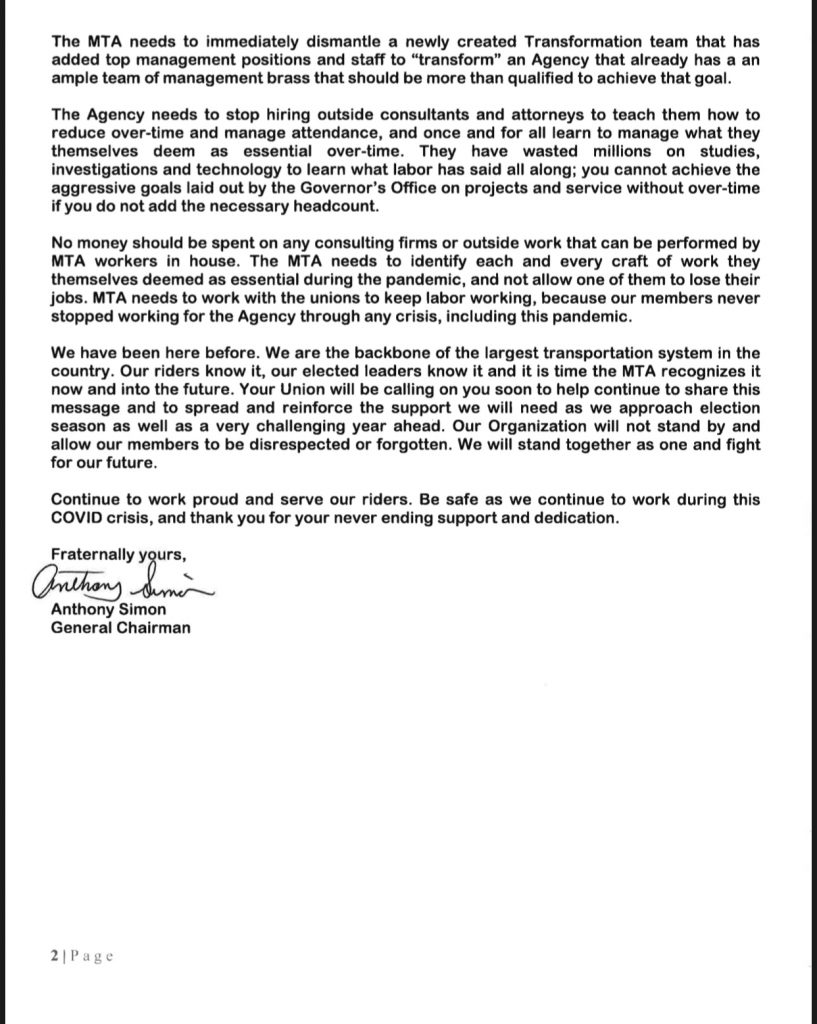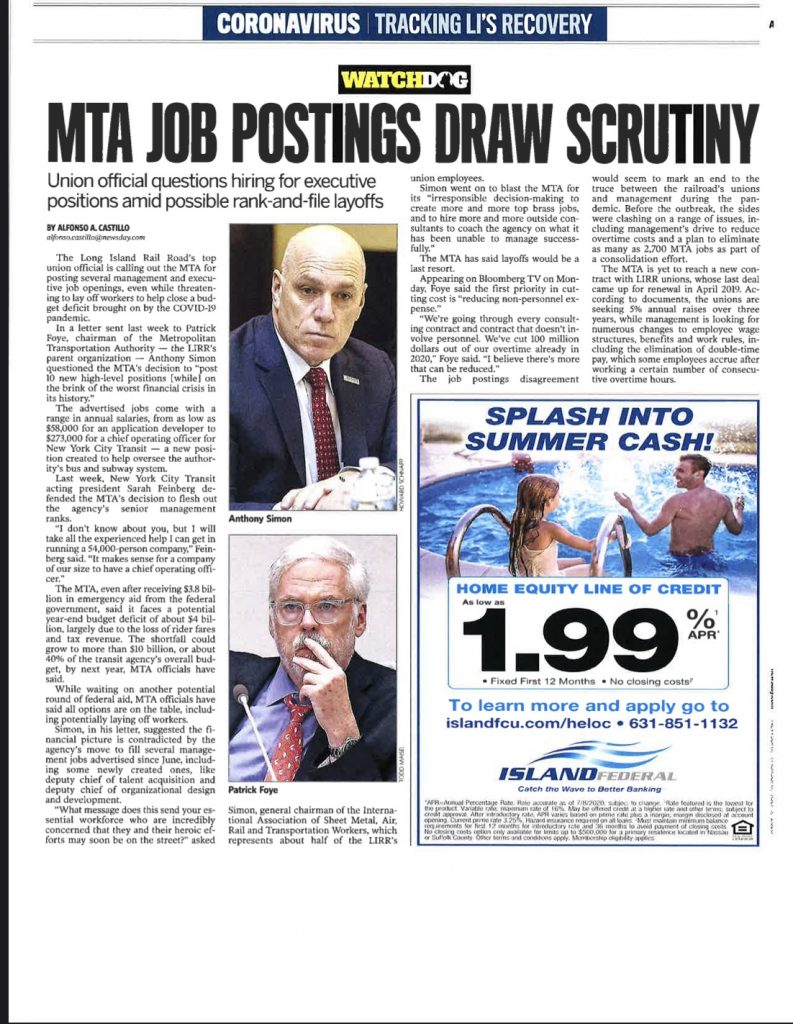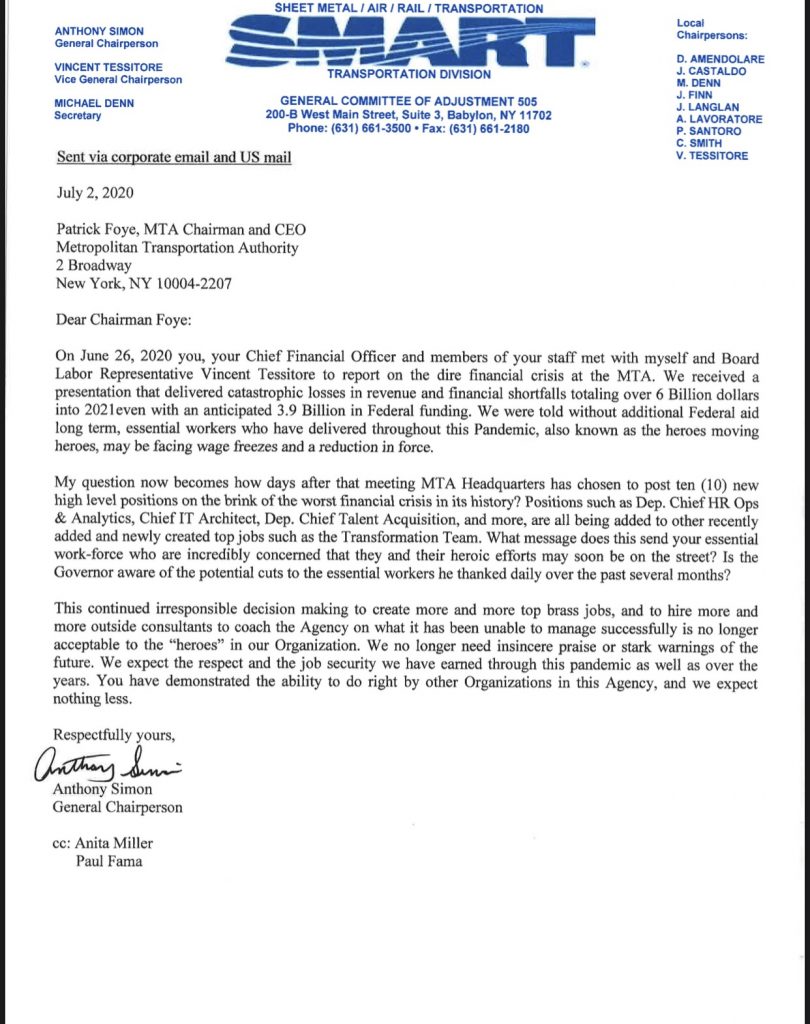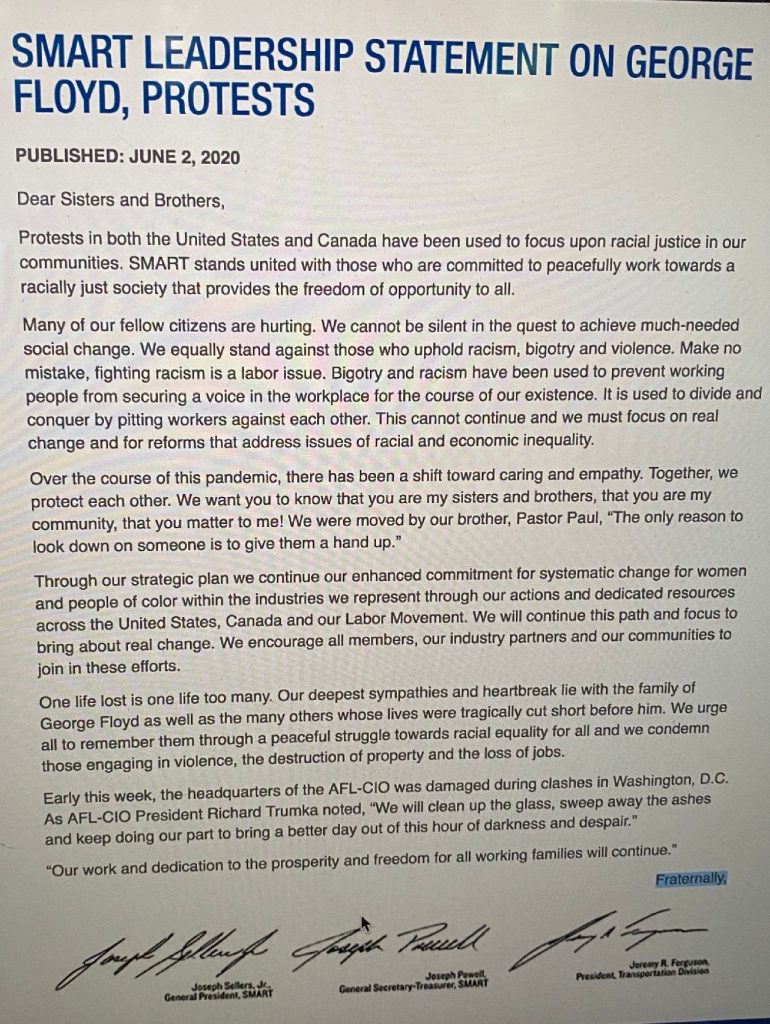 Senator Gaughran Introduces Legislation to Protect Essential Workers Amid COVID-19 Pandemic
(Huntington, NY) Today, Senator Jim Gaughran announced legislation, S.8286, that will protect essential workers from threats, harassment, and assault amid the ongoing COVID-19 pandemic. Recent news reports have highlighted the dangers essential workers — from nurses and doctors to first responders to grocery store workers — face in the course of their day-to-day jobs. Essential workers are being targeted for their profession and prevented from completing their jobs. This bill will increase penalties for such crimes committed against essential workers.
Senator Jim Gaughran said "Essential workers are on the frontlines of combatting this unprecedented global health crisis. Rogue criminals who threaten, harass, or attack these brave heroes must be held accountable for interfering with essential workers abilities to do their jobs. My legislation will protect our frontline heroes and deter senseless criminal activity."
This bill will increase penalties for crimes committed against an essential worker during a declared disaster emergency. The legislation will protect any worker deemed essential during a declared state disaster emergency, such as the ongoing COVID-19 pandemic.
Richard Schementi, LIRR Conductor who has faced verbal harassment and intimidation as an essential worker, said "As a frontline Conductor of the LIRR we want to thank Senator Gaughran for this bill. As a conductor we want to just come in and do our job protecting our riders as well as going home safe to our families."
Noel Di Gerolamo, Suffolk PBA President, said "During this global pandemic, it is unconscionable to think anyone would commit a crime against an essential worker doing their job. Unfortunately, it has occurred. Senator Gaughran's bill looks to help address these situations."
Anthony Simon, General Chairman/Alt International VP SMART-Sheet Metal Air Rail Transportation Transportation Division, said "On behalf of our LIRR essential workers who are delivering on service and walking into harm's way everyday we thank the Senator for recognizing the need for this legislation. LIRR employees and all MTA workers are heroes moving heroes All first responders and essential workers deserve to be treated with respect. We can not tolerate them being harassed or assaulted. The Senator has stepped up to put action in front of words and we thank him for his leadership. We stand in support of this bill and in support of Senator Gaughran."
Phil Eng, LIRR President, said "Transportation employees have been on the front lines of this pandemic day in and day out and they deserve all the protections we can afford them," LIRR President Phillip Eng said. "We need to continue to send the message that we have zero tolerance for anyone who wishes to harm one of our heroes, and that there will be stiff consequences for anyone who commits these heinous acts."
John R. Durso, President of the Long Island Federation of Labor, AFL-CIO and Local 338 RWDSU/UFCW, said "Our State's essential workers, healthcare professionals, and first responders have all been critical to our families and communities as we navigate the continued crisis. These selfless frontline heroes have put their own health on the line and the last thing they should ever have to worry about is physical or verbal assault and harassment. We should be sharing our gratitude at this time and anything other than that is both reprehensible and inexcusable. We appreciate Senator Gaughran's leadership in introducing legislation that would hold those who intentionally harm essential and frontline workers fully accountable for their actions."
Thomas Mungeer, NYS Troopers Pba President, said "This legislation provides another layer of personal protection, that Senator Gaughran wants to provide to NYS Troopers and all of our essential workers."
Michael O'Meara, president of the New York State Association of PBAs, said, "The people of the great State of New York are all living in these extraordinarily difficult times.  Senator Gaughran has recognized the need for legislation that would help protect our police officers, and all those essential workers who are on the front lines in the war against an insidious disease.  The current state of emergency, and the likelihood of similar situations occurring in the future, has unfortunately demonstrated the necessity for this legislation.  I commend Senator Gaughran for sponsoring this well-reasoned and much-needed measure."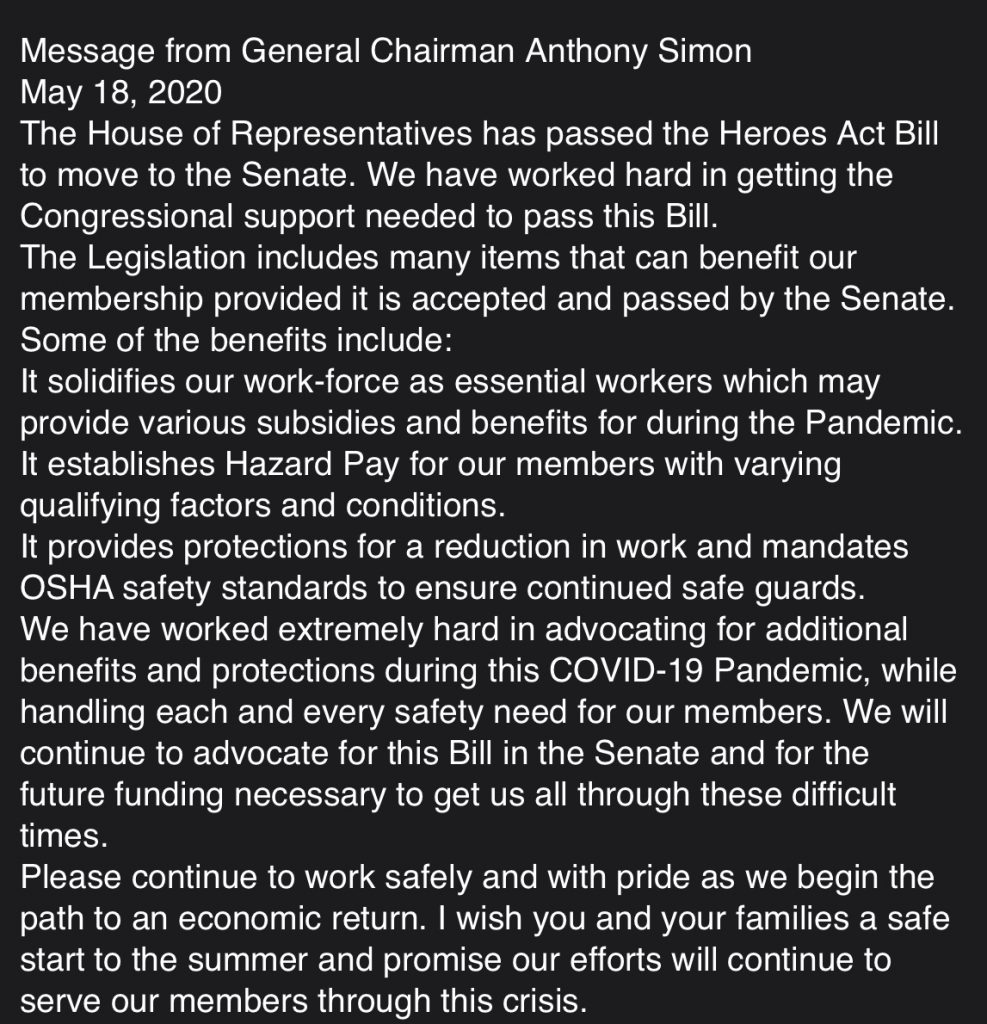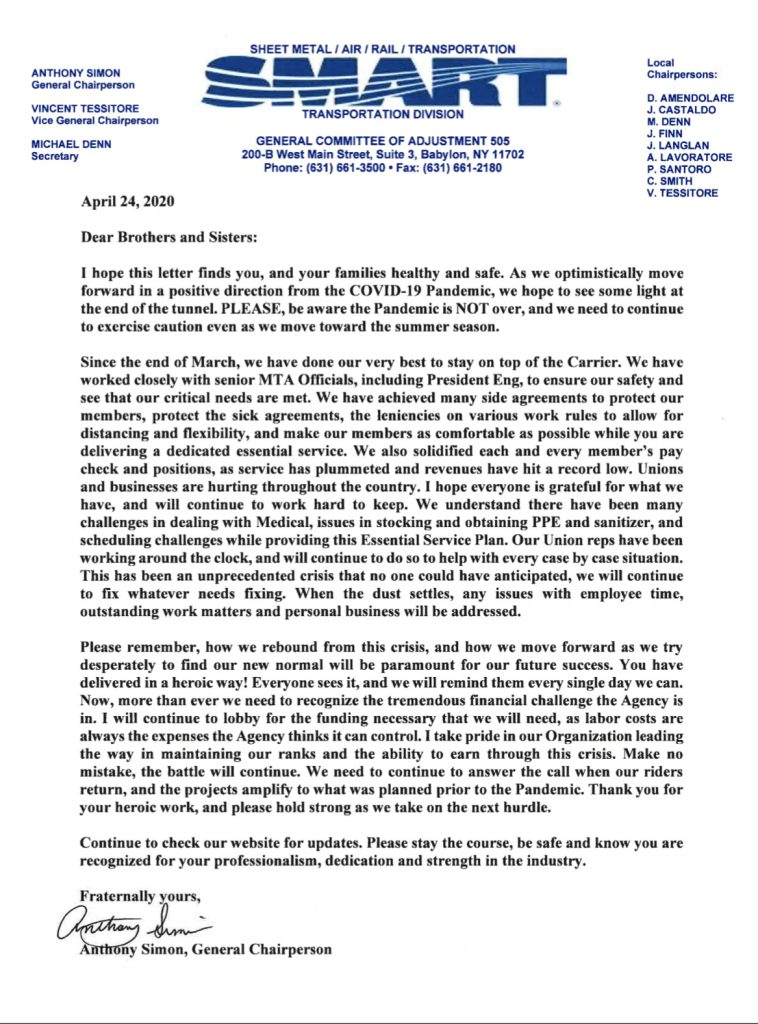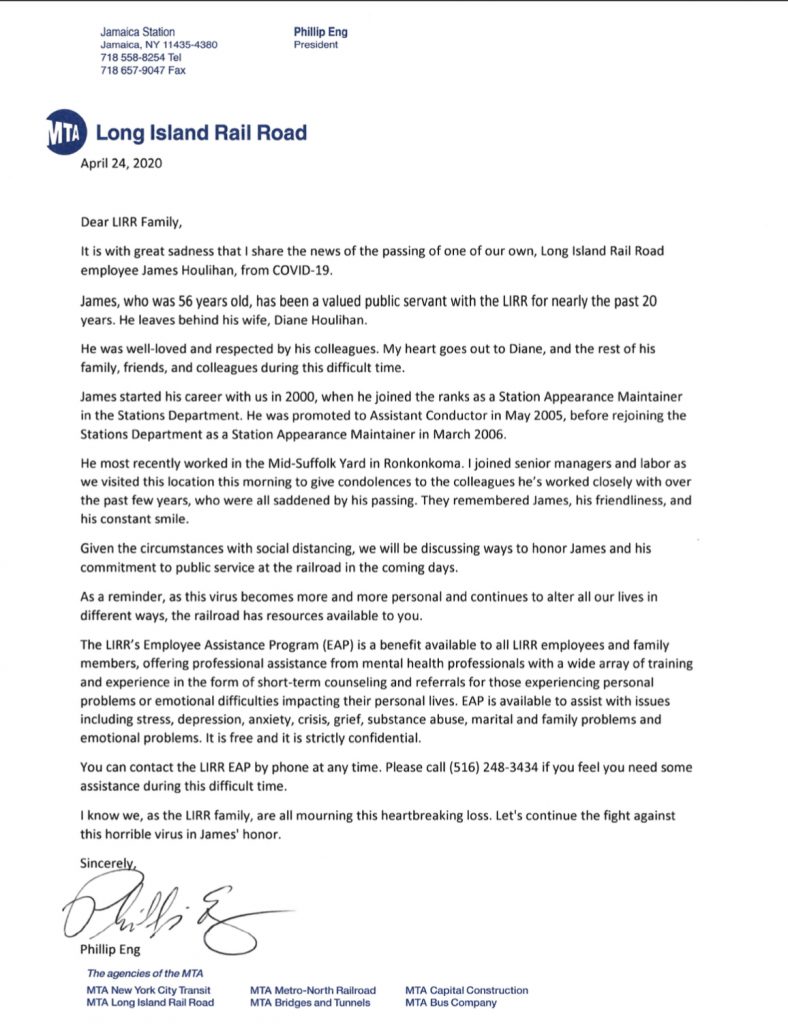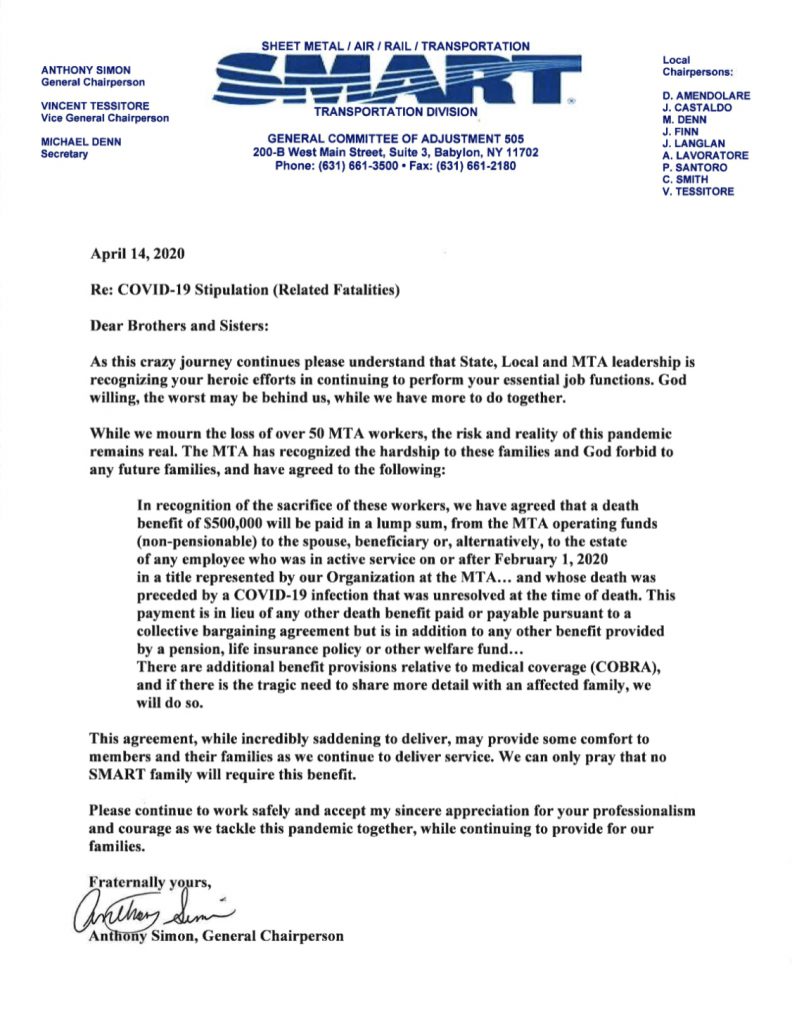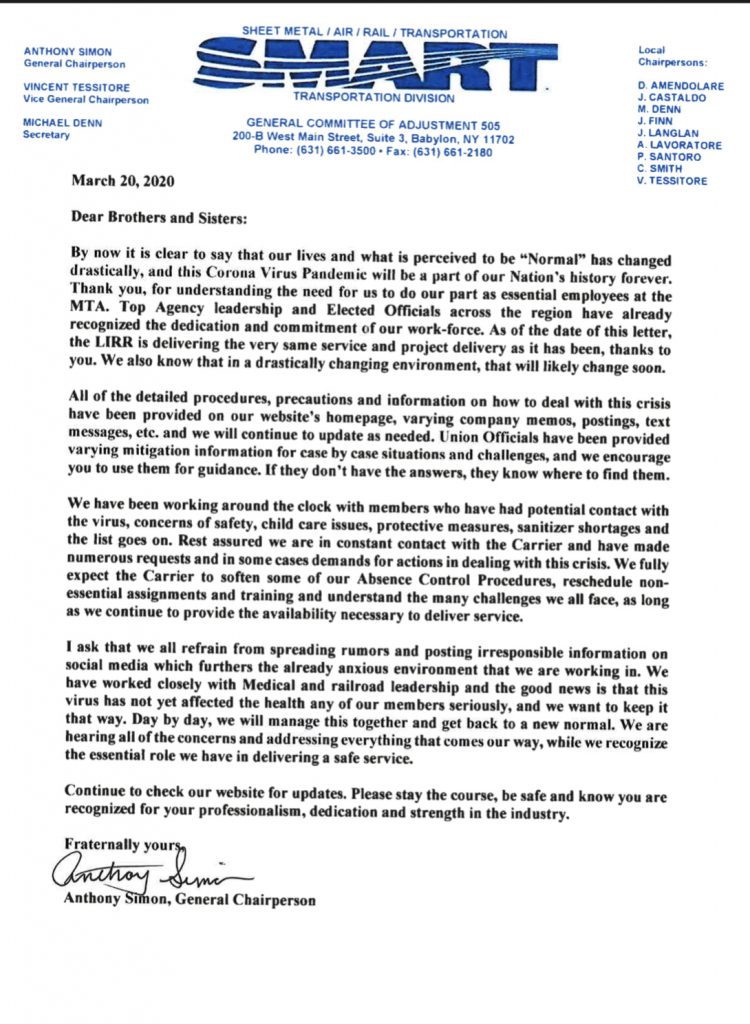 UPDATE!!! FROM GENERAL CHAIRPERSON
ANTHONY SIMON
March 17, 2020 7:30pm
Brothers and Sisters in Transportation:
The MTA will be implementing a fare collection
modification to improve upon the safety of our
front line workers and customers in an effort
to reduce the spread of COVID-19.  in order to
limit the hand to hand contact with
customers, effective Thursday March 19,
2020, the LIRR will not be accepting cash fare
payments at ticket counters or onboard trains.
Cash will be accepted at TVM locations only.
We will continue to accept Credit Card
payments for transactions and all other fare
collection policies will remain in effect.  While
we will continue to interact with customers
and collect transportation, this provision will
hopefully reduce hand to hand contact.
Understand during these trying times, revenue
is still necessary to keep us running. Please
continue to take precautions.
Gloves will be made available in the coming
days for those who feel more comfortable
using them. Hand sanitizer orders are coming
in daily and we need to share those resources
for our daily duties with one another. 
Please understand these things are changing
hour by hour, and keeping up with these
changes and making recommendations has
been a constant process.  We are engaged
and working through all of the challenges.
Stay the course, be safe and thank you
for understanding your role as an essential
employee.
UPDATE!! FROM GENERAL CHAIRPERSON
ANTHONY SIMON
March 14, 2020 5:00pm
To all SMART Members:
We just confirmed that a LIRR employee has
tested positive for COVID-19.  The employee
was in the Sheridan Shops in Richmond Hill.
Suffolk County CDC is handling their investigation.
LIRR will assist and make sure anyone who came
in contact or may think they have, will be contacted
by the CDC for any needed follow up.
If anyone feels they may have made contact in the
area or with the employee they can contact LIRR
Medical for guidance.  The shop will be cleaned
and disinfected, we will keep you posted.
As always any concerns or questions please
reach out to one of your union reps.
Thank you, continue to take precaustions  and
stay safe.
UPDATE FROM GENERAL CHAIRPERSON
ANTHONY SIMON
March 14, 2020
To all SMART Members:
Out of an abundance of caution employees will be
seeing varying work locations shutting down
or occupied by heavy duty cleaning
teams to continue to fight the spread
of the Corona virus. PLEASE UNDERTAND THAT
THIS DOES NOT MEAN THESE LOCATIONS
HAVE BEEN AFFECTED BY THE VIRUS.
We are working with the carrier and
are in support of any actions that will
limit risk based on inquiries and information coming
in hour by hour.  TO DATE STILL NO POSITIVE
CASES HAVE BEEN CONFIRMED ON
THE PROPERTY.  Members should still be
taking precautions as advertised in prior
notifications, including washing their hands
as frequently as possible with soap and water.
Our Committee has beeen in close contact
with leadership and will continue to
ensure the safest work environment
possible.  Members should contact medical with
any concerns or questions pertaining to the virus.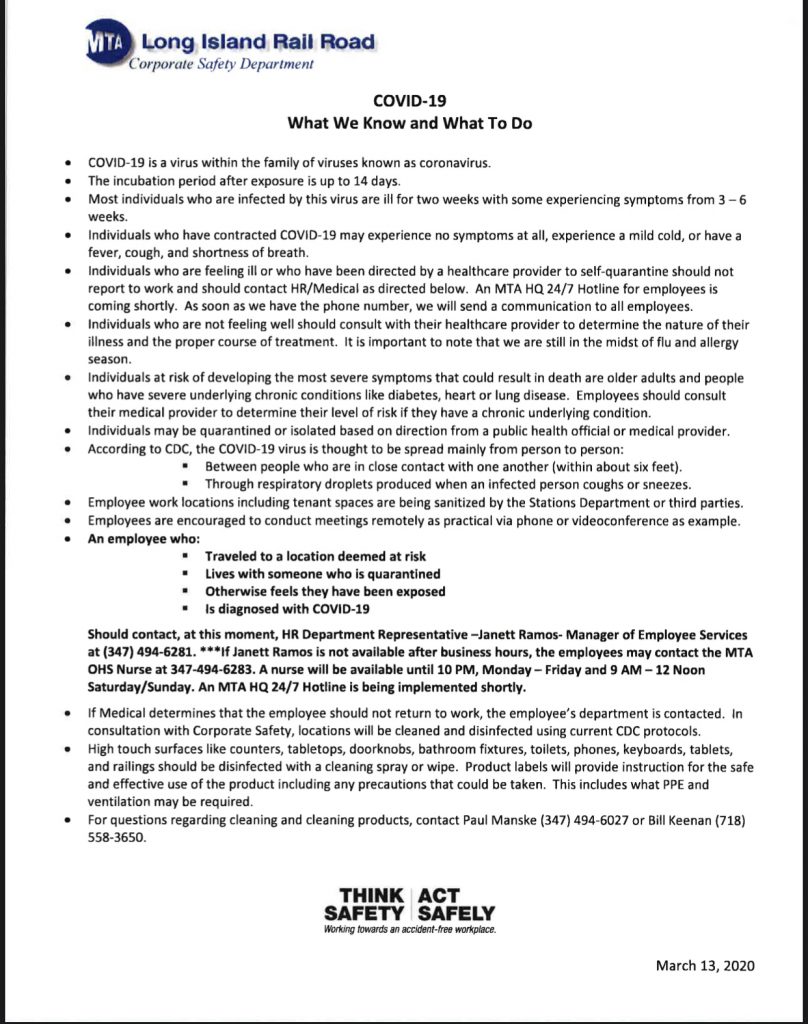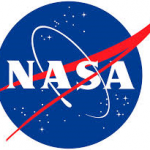 The confidential Close Call
Reporting System (C3RS) 
is a partnership between
NASA , the FRA, Participating railroads
and labor organizations.  It is designed to
improve railroad safety by collecting and
studying reports detailing unsafe
conditions and events in the railroad industry.
Employees will be able to report
safety issues or "close calls" voluntarily
and confidentially.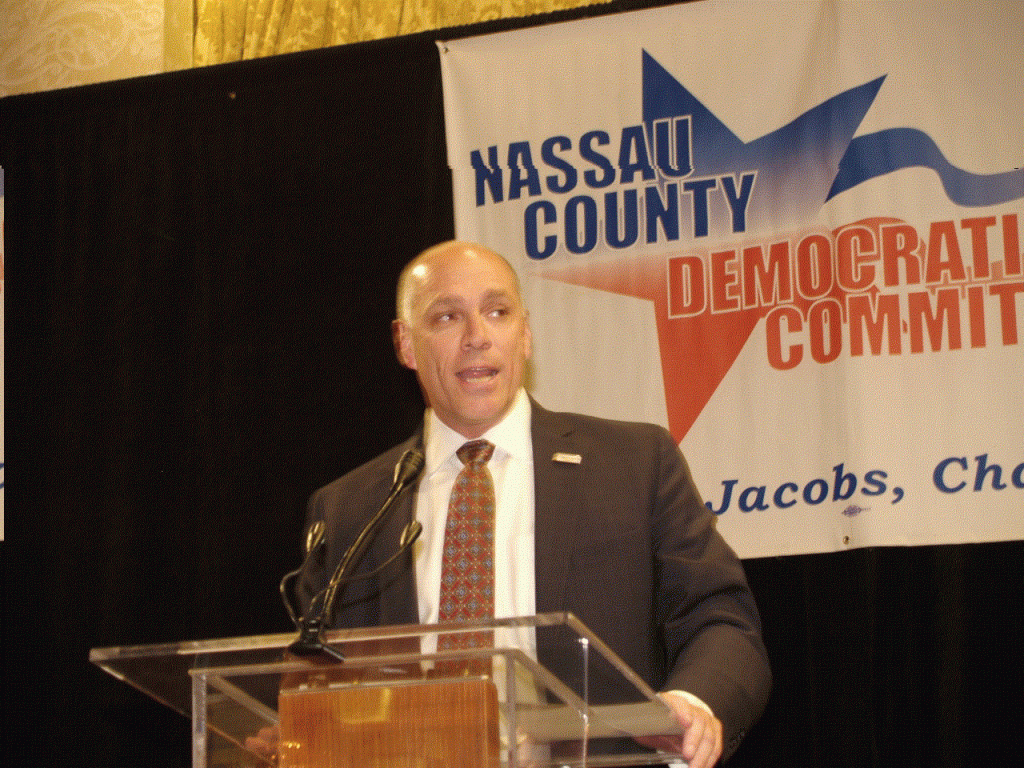 "What makes a union
strong is the resolve
of it's membership"-
Anthony Simon